Nike Ajax Nose Cone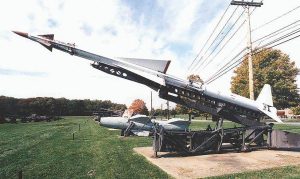 Rare Nike Ajax missile nosecone, measuring 6' 3" tall and 14" across at the base's widest point (rib to rib), and weighing approximately 51 lbs. The circular ports on the sides are brackets for mounting the canard fins, which controlled the missile's flight path. The nosecone has a worn red-and-white paint finish.
The Nike Ajax was the world's first operational guided surface-to-air missile (SAM), entering service with the US Army in 1954. It was designed to attack conventional bomber aircraft flying at high subsonic speeds and altitudes above 50,000 feet. The missiles were initially deployed in the US to provide defense against Soviet bomber attacks, and later deployed overseas to protect US bases. A complete Nike Ajax system consisted of several radars, computers, missiles, and their launchers.
This item is ITAR restricted; no export or sale to non-US citizens.
Artist:
Size: 6' 3" tall and 14" across
Type: Missile Nose Cone
Year Created: 1954
Year Acquired: 2023