Roland Burrow – Madonna & Child
St. Louis Artist, 1981-Present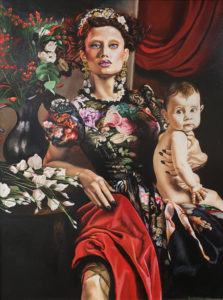 Roland was born in 1981 in St. Louis, Missouri. From a very early age Roland began to utilize his artistic ability. Wherever he traveled he carried a sketch pad and pencil documenting his everyday subject matter of living on the North Side of St. Louis. Roland attended McCluer High School in St. Louis, where he began his formal artistic training. In 1999 Roland enrolled in the Fine Arts Study Program at the University of Missouri – St. Louis (UMSL). Graduating with a bachelor's degree in fine art studies, Roland was influenced by his instructors; Mike Bailey, Phillip Robertson, and Jane Wu.
Roland looks to the Renaissance artists Michelangelo and Caravaggio to draw inspiration. He also has immersed himself in the works of the Harlem Renaissance painters. You can see the influence of both of these movements as Roland delicately melds the two together to create his own unique style.
Mission Statement:
Growing up on the North Side, growing up black, leaves little opportunity to view your community in a positive light. Historically the images seen of the Black community are of slavery, gangs and thugs and poverty. My goal is to portray the black community in a positive light as opposed to the historically represented theme of negativity. The people that I paint are drawn from everyday scenes from my community. I portray the subject honestly with a vibrant and colorful palette. I intend to use my art to create a bridge of understanding between the black and white communities and begin to close the divide.
Artist Instagram: https://www.instagram.com/ro_tat/?hl=en
Artist: Roland Burrow
Size: 43" x 32"
Type: Oil on Canvas
Year Created: 2010's
Year Acquired: 2017