Lazare Carnot – Signed Letter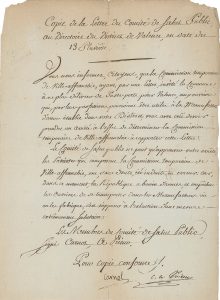 One of the most important creators of the French Revolutionary Army (1753-1823); he voted for the death of Louis XVI and was appointed by Napoleon to the post of Minister of War. LS in French, signed "Carnot," one page, 8.25 x 11.25, February 1, 1794. Letter concerning the need for a large amount of weapons, issued during the 'reign of terror,' in part (translated): "Letter from the Committee of Public Safety to the Directory of the District of city of Valence, dated 13 Pluviose…You inform us, Citizens, that the Commission of Ville-affranchie [the city of Lyon was renamed 'freed city' after the massacres of 1793 opposing different groups of revolutionaries] having invited the city of Valence to no longer issue passports to workers who, by their profession could be useful to weapons factories…The Committee of Public Safety can only approve your decree, the Patriots who form the Commission of Ville-affranchie have undoubtedly been misled; because, at this moment, the Republic needs weapons; and to prevent the workers from transporting themselves to the factories where they are manufactured, is to oppose the execution of an extremely salutary measure." Signed at the conclusion by Lazare Carnot, and countersigned by Claude Antoine, comte Prieur-Duvernois. In very good to fine condition, with some light creasing, and a short split to the bottom of the vertical fold, just impinging on Carnot's signature.
The enormous need for the manufacture of weapons to equip soldiers, career or volunteer, essential to the wars waged during the French Revolution and the 1st Empire, demanded greater organization and strategy. During this period, the army of the First French Republic was engaged with the multinational Coalition Army (Britain, Hanover, Dutch Republic, and Habsburg Monarchy), which resulted in their integral victory in the Battle of Fleurus in June 1794.
Artist:
Size:
Type: Signed Letter
Year Created: 1794
Year Acquired: 2020